The Laser of Tomorrow: Ultra-Fast, Ultra-Precise and Digital
The LASER World of PHOTONICS Industry Days took place from June 21 to 24,
2021. With this online event, Messe München – organizer of the world's largest
trade show for applied laser technology and photonics – offered its community
a high-quality program including market overviews, trend analyses and panel
discussion


The washing machine touch display of the future : Researchers develop shape-adapted controls
In the research project "CoMoDo" (Communication Module Inside Door), the
technologies and processes needed for modern operating and display systems
were researched and developed using washing machines as an example.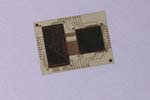 APPLAUSE for low-cost manufacturing of photonics, optics and electronics
Advanced packaging - complex assembly and interconnection technology for semiconductor components - has emerged as an essential technology for the integration of photonics, optics and electronics.


HoLiB and MikroPuls: Two Lasers, Two Applications,
One Goal: Improving the Production of Battery Cells
In the BMBF
project "HoLiB" and the AiF project "MikroPuls", for example, scientists from
Aachen are investigating how laser technology can be used to economically
contact and join dissimilar materials.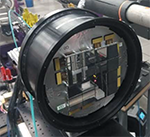 Drugs against SARS-CoV-2: High-resolution X-ray cameras help to decode the virus
These high-resolution X-ray cameras aid a variety of advanced discoveries in medicine, biology, and chemistry. Most recently, for example, the analysis using the detector allowed a key enzyme for SARS-CoV-2 research to be investigated.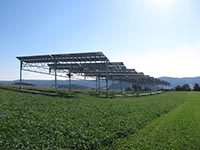 Dual Yield on Arable Land: Guideline for Agrivoltaics Published
The dual use of arable land : Photovoltaic modules, which are mounted on a structure, generate renewable electricity and underneath agricultural crops grow. The approach increases land efficiency and could mitigate conflicts over the use of arable land in the future.
A laser that uses optical detection and AI evaluation to prevent infestation with harmful insects in warehouses and that is intended to replace the usual fumigation - März 2021


Laser Technology for Agriculture 4.0
A laser that uses optical detection and AI evaluation to prevent infestation with harmful insects in warehouses and that is intended to replace the usual fumigation -
February 2021