Rivoli, 11 June 2018

The new ATEX K Series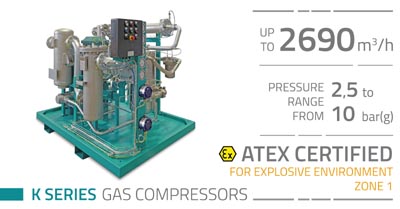 The new K Series gas compressors
Pneumofore, leading manufacturer of vacuum pumps and compressors since 1923, launches the new K Series gas compressors: the Rotary Vane solution for gas treatment and processing applications.

Facts
With 2.5 to 10 bar(g) pressure and up to 2690 m3/h, the K Series cover the gas compression requirements of many industries, from the oil&gas and energy sectors to chemicals, from the metal industry to food processing and more.
The K Series' high-quality, sturdy design meets the most stringent safety criteria. Moreover, these gas compressors are certified for extreme and explosive environments according to the Atex directive for Zone 1 (Atex II 2 / 2G).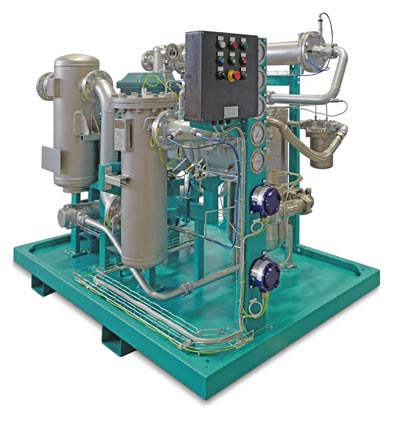 Widerange of Gases
Their simple design, with few moving parts, ensures maximum reliability and reduced operational cost.
The K Series gas compressors handle a widerange of gases, including: methane (CH4), ethane (C2H6), carbon dioxide (CO2), nitrogen (N2), biogas and natural gas.
Each K Series compressor is designed according to the specific gas composition and application. For this reason, a full range of accessories and optionals are available according to the customer's needs.
The K Series gas compressors are the solution for high energy savings, low operational cost and constant efficiency over decades. Pneumofore's state-of-the-art Rotary Vane technology ensures trouble-free operation, stable performance and the lowest Life Cycle Cost in the market. Pneumofore K Series gas compressors will be presented for the first time at Achema 2018, the world's leading tradeshow for chemical engineering and the process industry, held from 11 to 15 June in Frankfurt, Germany.
About Pneumofore
Founded in 1923, Pneumofore manufactures vacuum pumps and air compressors for industrial applications worldwide and supplies the hollow glass industry with centralized vacuum and compressed air systems, designed for the pneumatic requirements of the IS machines. Pneumofore compressors and vacuum pumps are found worldwide, whenever customers require extraordinary reliability and constant performance. Leader in Rotary Vane technology, Pneumofore solutions focus on efficiency, durability, minimal Life Cycle Cost, and high environmental respect.