Planning, specification, delivery, installation and commissioningurn key analysis stations
and sample preparations
- tailor-made to customer and application-specific requirements, starting from the gas sampling probe, heated sample and analyser lines
as well as sample gas cooler -
AGT-PSG GmbH & Co.KG
Weißkirchener Str. 3,
61449 Steinbach
Germany
phone.
+49 6171-97500
fax
+49 6171-9750-30

e-mail
info@agt-psg.de
homepage
https://www.agt-psg.de/en
Company News
6.1.2021
Only a few more steps and we are done: middle of this December the move into the new home in Steinbach will start.
---
10.3.2017
AGT-PSG GmbH & Co. KG
Nun ist es offiziell: aus AGT Thermotechnik GmbH & Co. KG und PSG Petro Service GmbH & Co. KG ist nun die AGT-PSG GmbH & Co. KG geworden. Die beiden Standorte Frankfurt (Industriestr. 8a, 61449 Steinbach) und Erkelenz (Richard-Lucas-Straße 6, 41812 Erkelenz) bleiben genauso bestehen wie Ihre bekannten Ansprechpartner.
---
2.5.2016
PSG Petro Service GmbH & Co.KG, takes over the AGT Thermotechnik GmbH & Co. KG
to offer our customers from one hand: gas sampling probes, heated sample lines and sample gas coolers.

more ...
Rubrics
system components

/sample conditioning
service provider
Technologies
Technologies
auxiliary units
sample preparation
service provider
chemical industry
x
consulting - analytical systems
x
engineering
x
eShop
x
Ex/ATEX
x
flue gas probe
x
gas sampling probes
x
heating sleeves
x
instrument air distributors
x
PAT process analytical technology
x
x
petrochemical industry
x
sample lines
x

sample gas conditioning / preparation

x
x
sample gas cooler
x
shelter - container
x
x
system integration - process analytics
x
Competencies and special reports
Chemical and Petrochemicals Industries
PSG's sector of specialisation was the chemical and petrochemicals industries. In that sector, PSG carried out what was essentially pioneer work – both in the engineering of entire analysis systems, as well as in the development of innovative components, the company achieved a prominent position in the market.


Long-standing partner for analyser lines: KME
There is a long partnership connecting the company with the Kabelmetal (KME) company, in close cooperation with which extruded analyser lines and tube bundles for applications in the chemical and petrochemical industries were successfully marketed.


The new online shop - July 2016


PSG Petro Service takes over the AGT Thermotechnik -retroactive to 1. January 2016


Aktuelle Neuerungen - PSG - December 12015


PAT in der Industrie - Chemietechnik - Januar/Februar 2015
Products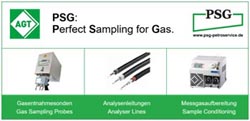 The online shop

• comprising technical data
• data sheets - also for mobile users
• simple and safe!
• top speed and pefect service.
---